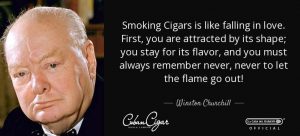 Throughout his long life, Churchill nourished England with his battlefield bravery, political courage and prolific writing, and nourished himself with the best food, drink and cigars he could find.
The man for whom the imposing Churchill cigar size is named smoked eight to 10 cigars a day, primarily Cuban brands. Not even the necessity of wearing an oxygen mask for a high-altitude flight in a nonpressurized cabin could prevent Churchill from smoking.
As the story goes, the prime minister requested that a special mask be created that would allow him to smoke while airborne.
Naturally, the request was fulfilled. On another occasion, Churchill hosted a luncheon for King Ibn Sa'ud of Saudi Arabia, who did not allow smoking or drinking in his presence. Rather than submit to the king's wishes, Churchill pointed out that "my rule of life prescribed as an absolutely sacred rite smoking cigars and also the drinking of alcohol before, after and if need be during all meals and in the intervals between them.
" The king was convinced.