VEGAS ROBAINA UNICOS Evening Guest March 19, 2017
A sporting expatriate
 working in Malaysia, enjoying his Vegas Robaina ; quite delicious and fantastic aroma. like the well balanced combination of Montecristo no:2 and the Partagas serie no:2.
The smell from the box is sweet and inticing. The wrapper is flawless, and smells of leather and chocolate. The predraw is amazing and delicious. The draw is excellent, and the flavors start out woody and earthy. The smell of the smoke always makes others ask what is different about this stick than the one that they have. The flavors progress into mocha creamy goodness in the second half.
PARTAGAS 8-9-8 Afternoon Guest March 16, 2017
Our special Exclusive
 P&L MEMBER , Mr James Chow .. a Malaysian lawyer  takes a break after lunch to have his quiet time, relax and smoke cigars before enduring serious legal matters at the Bar Council.
For him, PARTAGAS 8-9-8  is the perfect cigar to relax in the afternoon. The Pre draw is pleasant and announces some spice with butter notes. Not too hard to the touch and slightly bumpy it exhales an irresistible sour barnyard smell.
He is the Asian version from the painting behind. Outstanding guy with a big heart. Cuban Cigar guests at LCDH Mandarin Oriental Hotel , Kuala Lumpur varies from one professional profession to another.
A great place to wind down and relax with fellow professionals. Probably it's also a great idea to get the whole Malaysian Bar Council members to patronise LCDH before making serious legal decision. Let our friendly staff pamper you with a premium cuban cigar.
PUNCH Vintage Jar NITE Guest… February 2, 2017
A VIP bought a Punch Vintage Jar collection and smoked Punch for the first.
He just said 'Dammmmnnn Good Cigar'.
Beautiful near-flawless wrapper, cap the same. Feels quite firm, at cut it is looking almost overfilled. A lot of tobacco here. I do not get much of flavor in the pre-light draw but some deep earthy notes when smelling the foot.
Starting off with sweetness and cedar, quite full flavors but mild in strength. A weak pepper on the retrohale. The sweetness soon falls into the background and the pepper does not stay for long. Earth on the back.
Leather. Cedar is relegated to the background and leather is the main flavor here. Leather and earth lingers on the palate in harmony. Definitely hints of sweetness still present. The cigar builds in strength slowly, with two attempts at more stepwise changes coupled with some pepper on the retro but doesn't stay for long.
PARTAGAS D4 … February 1, 2017
A regular guest, Mr Ikhwan Bakhtiar, a Malaysian Entrepreneur, Speaker & Motivator finds the atmosphere at LCDH very relaxing and the staff very hospitable for a excellent late evening hide-away.
Perfect draw and burn. Flat tasting at first. Lots of walnuts, almonds and earth are present throughout. Gentle yet persistent. Solid smoke production. It picks up towards the middle adding subtle tingly spice and high-toned herbaceous aromas. Cocoa powder, seaweed, spinach, baguette, white pepper. The finale is powerfully nutty, leathery, vegetal, earthy and spicy. This is a supremely masculine smoke built for the poker table or the cattle ranch
PARTAGAS D4 Midnight Guest
Two handsome guests joins us at LCDH  for a smoke after their long business meeting at Mandarin Oriental Kuala Lumpur.
What a great cigar. Even if not aged well i superb experience smoking this diamond. Very good cigar, medium to strong with pepper. Now they are young but tasty.Looks little ugly, but good burn and draw.
MONTECRISTO DANTES … P&L GUEST from Hong Kong
Mr. Kotani Susumu trying the new Montecristo Dantes at LCDH at Mandarin Oriental, Kuala Lumpur.  
Montecristo Dantés (ring gauge 48 x 167 mm long), is a thick-to-midsize habano with elegant format and mild-to-strong taste. What's more, it's the first "Hermoso" (ring gauge 48) launched within the Montecristo brand. This limited edition is presented in a 10-unit special box.
COHIBA ROBUSTO ….. Local Malaysian Herbs owner
Syed Haidir Al Qadri,working at oil and gas company, also owner of side business Jamu & herb located in Kuala Lumpur area. He used to smoke cuban cigars. His all time favourite Cigar is Cohiba Siglo 6. Now he decided to smoke Cohiba Robusto instead.
This Cohiba vitola has made Robustos one of the most desired Habanos in the market. This one is a real piece of jewellery not to be confused with a simple thick cigar, one of the problems when it comes to define Robustos. There are only nine authentic Robustos and this one is the most complex, because of its strength and excellent joint.
ROMEO & JULIET WIDE CHURCHILL … Guest from Japan
A Japanese Businessman, Fuji Mako and his merry friends simple love to R&J Wide Churchills after a hard day at work. They found time to be LCDH guest at Mandarin Oriental Kuala Lumpur.
Simply put, this is a great cigar for the price paid. It gives something to just about everyone at EXTREMELY reasonable cost. A great value for what you pay for.
The Wide Churchill is one of the latest addition to the Romeo Y Julieta Stable. Following the launch of the short Churchill launched in 2006, the slightly longer and much stouter WIDE CHURCHILL reflects the current fashion for heavy ring gauge vitolas.The cigars exude smooth,subtle aromas that are the hallmark of the medium flavoured Romeo Y Julieta brand.The presentation box of 3 Contains 3 Cigars, one of which is presented in a Romeo Y Julieta humidifying tube,which incorporates a built in cigar punch.
MONTECRISTO NO.5 … A HOT favourite for a local Managing Director
Montecristo No.5 , a cuban cigar favourite brand for this young Managing Director of Golfid Networks Sdn Bhd , Mr Ivan Ooi. He currently manages a Driving Range at Glenmarie Golf Club, Selangor. Enjoying his evening at LCDH Mandarin Oriental, he tries out LCDH cigar of the month, H.Upmann 46.  
Montecristo No.5 … a wonderful cigar that is a top choice in the perla/small cigar realm. Flavors always have cocoa, mocha, can vary from light to dark chocolate taste. Espresso flavors as well.    H.Upmann 46 … very good cigar! Burned relatively evenly with a good draw. Started off sweet with notes of vanilla and hay. Near halfway change completely! Very smooth with leather and toasted almond flavour. Absolutely delicious… Sad when she was done. Definitely recommend.
A social smoker loves H UPMANN half Corona .. May 20, 2017
Mr Khairul Shahrin , a social smoker,  prefer Cuban cigars when he hangs out after work with friends and business associates.   Romeo Y Julieta petit , Cohiba Robusto, Partagas, Dominican and Sumatera cigar are among his desired cigar brands. This mild mannered Executive Director with an Advisory Agency based in Kota Damansara loves to try any cigar but his preference are Cuban cigars.   According to him, H Upmann half Corona is just nice, smooth easy draw and suits with his taste bud.
ALOHA Kevin …. First Hawaiian LCDH Guest 'Montecristo Petit Edmundo
This is Kevin's first trip to Kuala Lumpur, Malaysia and he is enjoying every minute of his holiday in Malaysia. While staying at Mandarin Oriental , he made sure of stops over to LCDH for a Cuban Cigar especially Montecristo Petit Edmundo.
A fine cigar with a little more flavor than the Edmundo. Burns and draws nicely for around 50 minutes. Great looking mildly oily, brown wrapper
COHIBA Medio Siglo Aussie Delight
Back in 2014, COHIBA was the preferred  cigar brand Grand and Penny . Unfortunately for Grant, COHIBA Supremos EL 2014 is no longer in the market. However,  Grant decided on COHIBA Medio Siglo for his trip to La Casa Del Habano Kuala Lumpur.
Medio Siglo represents a new vitola for Habanos and its sizes also pay homage to two other classic vitolas treasured in Línea 1492. Cohiba Medio Siglo features Cohiba Siglo VI's ring gauge 52 (20.64 mm) and Cohiba Siglo I's length (102 mm), so it's a habano with a clipped and modern format, absolutely new in the brand, with a drawing time of approximately 30 minutes and the mild strength Línea 1492 has been famous for.
Young Taiwan Cigar Smoker with a crave for Cuban Cigar
Mr. Zach Szu, a 27 year old tourist from Taiwan on a 4 days days holiday in Malaysia paid a visit to LCDH at Mandarin Oriental Kuala Lumpur to try out TRINIDAD Cigar (Reyes) …. LCDH August Brand of the Month. Mr Szu has been smoking cigars for the past 3 years …. Montecristo, Partagas, Cohiba Maduro, H.Upman, Magnum 46 and also BEHIKE 54.
WELCOME to P&L latest Malaysian member
Mr Khalid is Malaysian businessman, a "Cuban Cigars Collector" for 4 years and a well experienced cuban cigar smoker for 6 years. He's favourite cigar includes Partagas Connoisseur no .1, Partagas Serie D no.4, Saint Luis Rey Inca Peru Regional Edition 2014. From a casual smoker to a heavy smokers. Lately, he craves for Trinidad Coloniales and Partagas
During his current trip to La Casa Del Habano, he particularly choose Partagas Salomones for the tea time.
Big Apple Cigar Delight
Three guys from the Big Apple having a great time at La Casa Del Habano Kuala Lumpur
Ivan, Ben and Brian from San Francisco USA who just arrived from Tokyo found LCDH @ Mandarin Oriental Kuala Lumpur as a perfect sanctuary to unwind their heavy work schedule as an Investor Consultant.  COHIBA Siglo VI cigar is their personal favourite to enjoy a great relaxing evening in Malaysia.
An enjoyable evening at La Casa Del Habano
A warm welcome to Mr Folke Warmer and Miss Rose for enjoying their very first visit to LCDH@Mandarin Oriental KL.
Montecristo Petit No.2 and Montecristo Petit Edmundo is their personal favourite for Mr. Folke Warmer and Miss Rose respectively.
HOYO MONTERREY EPICURE 2 Afternoon Guest … March 17, 2017
Another frequent P & L member patronizing LCDH. A Hoyo De Monterrey Epicure #2 smoker. But today he was willing to try out Robaina Unicos for the
first time.
Hoyo Epicure 2 is not an overwhelmingly strong cigar, it is extremely full-bodied in flavour. The smoke coming off the cigar at every puff was sweet and very velvety feeling at times like it was leaving a bit of caramel on his tongue.
For Robaina he said too mild for him but was willing to give it a try.
Montecristo NITE Guest… February 3, 2017
South Korean Lady … been smoking Montecristo No.5 for the last one year and loves the flavour of cocoa, mocha which can vary from light to dark chocolate taste and hint of spicy in the middle.
Our Special Nite Guest at LCDH, Mr. Samuel Spurr, an Australian journalist from Cigar Journal.
He likes the La Casa selection cigar , H.Upmann Royal Robusto. His comment : "Very medium, slightly spicy and excellent draw".
He was in Malaysia during on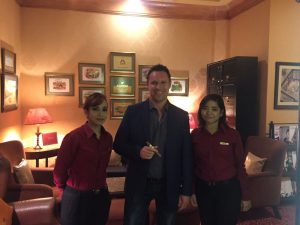 e of his Asia Tour recently for a special interview , lots of Q & A sessions about cigar culture in Asia in general.
It was a delightful experience for both Mr. Samuel Spurr and staff of LCDH Malaysia at Mandarin Oriental.
Hope to see again on your next Asia tour to Malaysia
VEGAS ROBAINA UNICOS – Special Midnight Guest from Aficionado London.
VEGAS ROBAINA UNICOS
March Cigar of the Month 2017
Although this is the first ti
me smoking this brand, he loved it as this cigar goes very well with anytime, Day or Evening. Very smooth, complex and pleasurable tabacco flavour.
MONTECRISTO PETIT NO.2 Evening Guest on April 11, 2017
Mr Joseph Lee from USA is in Kuala Lumpur for a business trip from Singapore. His preference is Montecristo Petit No.2.
The figurado shape tapers smoothly, and the wrapper itself is also smooth, medium brown, with a nice sheen of oil. Because the cigar is shorter than the original, it looks pretty squat. I don't detect any signs of hard or soft spots anywhere, which is very promising for the construction.
On pre-light, I detect a simple aroma of tobacco with a hint of hay. The flavors during the first third definitely follow suit. I get most tobacco with a hint of toasted nuts and chocolate. The chocolate note is sweet, not bitter, like milk chocolate, though it is faint and hangs around only in the backdrop, rounding out the other notes. The cigar is producing plenty of aromatic smoke.
PARTAGAS D4 ,…. LCDH Guest on March 30th, 2017
Mr. Ikhwan, a re
gular Malaysian guest making LCDH at Mandarin Oriental Hotel Kuala Lumpur his permanent stopover for his business meetings with his local and international clients in the evening.
On why he regularly loves PARTAGAS D4 …
By the time I finished my cigar I was feeling good. I was impressed with the flavors and even more impressed to find no spice and no pepper. I would absolutely smoke this cigar again and of course I recommend for you try it out ESPECIALLY after a successful meeting.
… There's something about this cigar that makes you stop and look at it. And that's the first puff. On the first puff I picked up absolutely no pepper and no spice (which is great) like I did on the pre-draw, but what I did pick up was smoothness.
HOYO DE MONTERREY EPICURE 2 Evening Guest …
Mr,Shibazaki From Japan , a foreign businessman coming for business trip 3 days,stay in Mandarin Oriental. He has more than 18 years of experienced smoking Cuban cigars. His other favorite cuban cigar is PUNCH.
The cigar held nicely during the smoke. No wrapper issues to report. The draw was a tad firm to start but by the first cm or so it opened up beautifully and was never an issue the rest of the way.
The Epicure No. 2 let off a great volume of smoke and the brownish/white ash was firm, lasting well over an inch at the beginning but became more flaky around the midway point. The burn was dead even and very impressive.
HOYO DE MONTERREY PETIT CORONATION
Kevin Shah, son of the late Datuk Kadar prefers the ancient collection of Hoyo De Monterey Petit Coronation released in 1960's.
Great prelit aroma of chocolate, though it changed considerably after lighting. The tobacco used is of good quality and the taste shows signs of complexity, with each newly developed aroma different, yet not lagging neither in strength, nor in savour. The draw is a bit too tight, but tolerable.
Excellent cigar, great draw, smooth mellow and almost nut like flavours. Good burn 45 mins of good relaxation.
MONTECRISTO No.2 … American all time favorite.
Montecristo No.2 … American all time favorite.
Mr Robert Gary a Chief Commercial Officer of Stolle Machinery signed up for P&L member yesterday because he's going to travel a lot in Asia for business trip.


He smoked cigar since 1970 when he was 25 that year. Live healthily in Montana, USA and for 72 year old cigar smoker today, he's very fit as a fiddle and in good shape!
He loves the huge selection in LCDH and bought some selections including the Cigar of Month for home.
He smoked his all time favorite Montecristo No2 the 1st day he came and 2nd day yesterday for the first time he gave a try a vitola perfecto Cuban cigar and that was our Hoyo De Monterrey La Casa Edition and he likes the consistency of the burning, the draw and the combination flavors of creamy oak, almond, cinnamon, leather and a touch of citrus.
15 YEARS OF CELEBRATION as cigar smokers
It's a celebration for these six close friends at La Casa Del Habano, Mandarin Oriental Kuala Lumpur.
BOLIVAR ROYAL CORONAS …. another American favourite
Mr Painter, an American Petroleum Geologist coming to Malaysia for a 3 days business trip dropped over to Malaysia's Cuban Cigar Sanctuary (LCDH) at Mandarin Oriental for a relaxing night out after dinner.
Generally he smokes Montecristo and Romeo & Juliet as his preferred cuban cigar but tonight he wanted to try something different. He choose BOLIVAR ROYAL CORONAS paired with a light scotch … Just perfect for him!
His comment … The cigar easy draw, mild, earthly and leathery.
A Swiss Managing Director with great taste for Cuban Cigar
Mr Manfred J.Faehndrich, an MD and Owner of  Chalet Suisse Restaurant located in Ampang, Kuala Lumpur used to smoke Non Cuban Dominican Republic) cigars before. However after trying Cuban Cigar like Siglo, he never looked back.
During his cosy night out at La Casa Del Habano on July 11, 2017, he decided to try our favourite Punch cigar for a change.
Punch is one of the oldest brands in existence. It was first rolled in Cuba back in 1840. To put it in perspective, that is over 60 years before the first hand held lighter was invented. Lighting these over a stove top was probably a real pain. For more than 100 ears the Punch line flourished and was a notable favorite of many European dignitaries. Following the Cuban embargo, their journey took them deep into the heart of Central America, to the dark rich soils of Honduras. It is there that Punch has become one of Americas favorite cigars. From the original Punch line to the smooth Grand Cru and the rich Rare Corojo, it is impossible to visit a cigar shop in the US and not see Punch on the shelves. Enjoy the entire Punch line right here.
Cuban Cigars are the BEST for this Singaporean businessman !
Mr Cy Cheng from Singapore, a 20 years experience cuban smoker since 1990 His personal favourite includes H Upman and Rafael Gonzales 88.
During his visit to La Casa Del Habano at Mandarin Oriental Kuala Lumpur recently, he smoked Saint Luis Rey Pacificos. He finds La Casa Divan Kuala Lumpur nice and cosy relaxing place especially for cigar smokers and he was excited to come again and will certainly bring along more cigar smoking friends to experience the real taste of cuban cigars.
The Saint Luis Rey brand is not the most well-known of the Cuban marcas, but it isn't for a lack of history. It dates back to a registration of the name in 1927 by a pair by the name of Zamora and Guerra.
The name also has some uncertainty in its origins: one theory is that they are named for the main town in Pinar del Río, San Luis, that is the hub of the tobacco industry, while another is that they reference The Bridge of San Luis Rey, the popular 1927 novel by American author Thornton Wilder.
The Saint Luis Rey roster of current production cigars is small, with just three vitolas:
Saint Luis Rey Regios (5 x 48) — Corona Extra
Saint Luis Rey Serie A (5 3/5 x 46) — Corona Gorda
Saint Luis Rey Double Corona (7 5/8 x 49) — Double Corona
ENGLISH Gentleman loves his cigar !!
A consultant, Mr Lou from England is here for a 10 days holiday. He had been smoking for the last 3 years and continue to enjoy the exquisite feel and aroma of the cuban cigar. While on holiday he still managed to smoke 4-5 sticks of COHIBA brand cigar. He finds La Casa Del Habano @ Mandarin Oriental as 'Sheer Heaven for  Cuban Cigar smokers'.
Cohiba is a brand for two kinds of premium cigar, one produced in Cuba for Habanos S.A., the Cuban state-owned tobacco company, and the other produced in the Dominican Republic for US-based General Cigar Company. The name cohíba derives from the Taíno word for "tobacco."
Perfect Cigar Sanctuary for the Three Musketeers
Three Malaysian Musketeers , John, Farish and Adam Kay found the exact location after a hard days work ….. ONLY at LCDH @Mandarin Oriental Kuala Lumpur – "The BEST Cigar Sanctuary in TOWN".
They enjoyed Hoyo de Monterrey Petit Robusto and Romeo y Julieta Petit Royales as being the best cuban cigar selection to enjoy after a long day !