PARTAGAS SELECTION LUSITANIAS :
An incredible Double Corona. Easily one of the best cigars coming out of Havana. Sophisticated, intelligent and complex. Rich beyond your wildest dreams, with flavors of fruited potpourri that evolve into a creamy full amber phase culminating in an extremely spicy finish. Oozing with class, this smooth cigar dabbles with perfection. 
The Lusitania has something no other cigar has. That majestic mildness at the start (the incipit) is nothing short of marvelous. The smoke is cool and the mildness announces the strength and delights that are to come. Back to the initial smoke: it is cool and smooth yet strong and it says one thing 'opulence'. As one progresses in the first third it gets stronger, richer, and more diverse: the notes get deeper more evocative: a wonderful cigar.
PARTAGAS SELECTION SERIES E NO2
The Partagas Serie E No. 2 was officially released at the XIII Habanos Festival in Cuba in February of 2011.  This is a very nice-looking cigar. It's large and has some real heft to it because of the wide ring gauge, but it doesn't feel all that heavy. Squeezing it, you won't find any soft or hard spots. It was very consistent all throughout. The wrapper is a very light brown color with some noticeable seams. Initial notes kicked in with wood, leather, tobacco, and an earthy backdrop, with something of a "barnyard" motif. There was a hint of sweetness right from the beginning, but very little spice.
The earth note didn't stay in the background. It rose to the forefront during the middle third. At this point, a creamy texture emerged, along with some nuttiness. There was still almost nothing in the way of spice. The sweetness got stronger, but still remained in the background as an undercurrent. A lot of cigars kind of drift off in the final third. Either they loop through flavors you have already experienced, or they keep doing more of the same, or they get hot and harsh. The Partagas Serie E No. 2 did none of those.
This is a cigar that really shines in the final third. Going into the last third, the sweetness finally came out of the shadows, revealing itself as an incredible honey flavor. Some spice finally emerged, balancing out the sweetness. This was very unexpected, and was a delightful surprise. Also detected wood and hay notes again, as in the beginning, and a hint of either coffee or chocolate. The creaminess toned down a bit, but remained a key element.
BOLIVAR ROYAL CORONA
This cigar was previously named Charles and changed to Royal Coronas in 1973. Smooth robusto with balanced earthy and peppery flavours. Smooth tobacco taste is also present. One very good thing about this smoke is that it does not need a long ageing, do not have to wait to enjoy it. Sweet woods, cream, light spice, coffee & that superb, somewhat difficult to define floral quality that seems unique to Bolivar are all there in abundance. Smooth, full of smoke, and consistent burn throughout.
PUNCH SELECTION PUNCH 48 LCDH Edition
Special release for both Habanos Specialist and La Casa del Habanos. 
The Punch 48 was a bit of a UFO flavor-wise. This cigar release the typical fresh woodiness of Punch with hints of mint and cinnamon. This four component together with a light to medium strength and well-balanced acidity started to bring back the body to the cigar. The more it went the rounder and smother the texture became to leave a delicate woodiness and vegetal feeling on the palate.
Finally the last third expressed a true Punch. Medium strength, beautiful texture and surprisingly well-balanced flavours and aromas. The beauty of Punch cigars is its strong "woodiness-freshness" feeling. The woody element of the Punch 48 together with an aromatic feeling makes this last third such a great Punch.
As of April 14th. 2017, LCDH proudly announce that the arrival of :
COHIBA SHORT
HOYO MONTERREY ELEGANTES (New LCDH Edition)
LA GLORIA CUBANA 25 Aniversario
MONTECRISTO DANTES
COHIBA MADURO GENIOS (50th Anniversary) Spain LE
COHIBA MADURO GENIOS (50th. Anniversary) Spain LE
This edition of the Cohiba Maduro 5 Genios is the second product commemorating the 50th anniversary of the Cohiba brand. It will be released as a Spanish Regional Edition.
This cigar has an additional ageing of at least five years, giving it a slightly darker layer and a more homogeneous and consistent look. It is a magnificent cigar and is one that collectors, and true aficionados, will certainly have their eye on.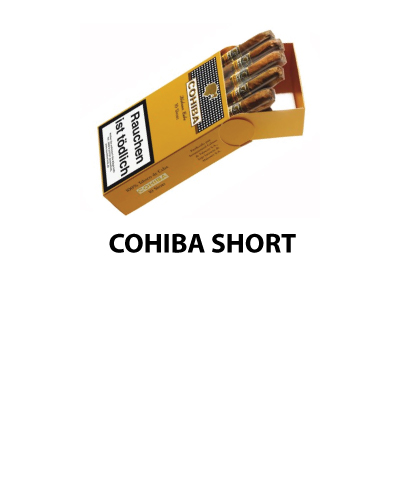 COHIBA SHORT
An exciting new size from one of the most prestigious cigar brands has joined the family of Cuban Minis, Puritos and Clubs. The Cohiba Short combines the length of a Cuban Mini with the width of a Puritos and is machine-made in Cuba using tobaccos from the same region reserved for Habanos.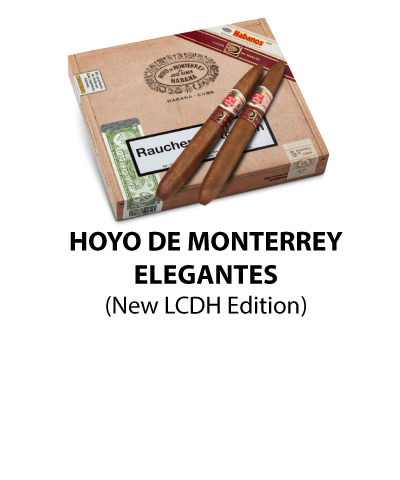 HOYO DE MONTERREY ELEGANTES (New LCDH Edition)
The Hoyo de Monterrey Elegantes is covered in a cinnamon brown wrapper that features a bit of tooth as well as a significant amount of oil. The cigar is quite spongy when squeezed, and there are multiple veins running up and down the length.
Aroma from the wrapper is a combination of strong barnyard, manure, grass, cedar and leather, while the cold draw brings flavors of creamy oak, almonds, cinnamon, leather and a touch of citrus.
The Hoyo de Monterrey Elegantes is a 6 1/4 (158mm) x 47 perfecto that will be sold in boxes of 10 when it is released. This is the second Hoyo de Monterrey to be named an LCDH exclusive, after the Hoyo de Monterrey Epicure de Luxe was announced in 2012.
LA GLORIA CUBANA 25 Aniversario
To celebrate the 25-year history of this prestigious network of La Casa Del Habano which has more than 140 branches all over the world, Habanos s.a. presented in 2015 a Humidor with an intriguing design. This artisanal piece of work that has been delicately carved in fine woods by the best Cuban artisans, has the shape of a colonial styled house with the colours that identify with its graphic image.
Inside each humidor are two special edition sizes of the La Gloria Cubana blend, a Pirámides (6 1/10 x 52) and Robustos Extra (6 7/10 x 48). There are 15 of each cigar included in the humidor, with a total of 3,500 humidors produced and available exclusively through La Casa del Habano locations, which is reflected by way of the secondary band that the cigars wear.
Each humidor was carved in fine woods by Cuban artisans in the shape of a colonial styled house, with colors that complement those of La Casa del Habano stores.
MONTECRISTO DANTES
The third and final of Habano's S.A.'s 2016 Edición Limitadas has begun to arrive at retail, as today LCDH Malaysia announced that the Montecristo Dantés is available for sale at La Casa del Habano stores in the country.
The Montecristo Dantés (6 3/5 x 48) comes in the Hermosos No.1 vitola, a grand corona that indicates that the Cuban cigar conglomerate hasn't completely forgotten about fans of sub-50 ring gauge cigars. It's also the first 48 ring gauge cigar released in the Montecristo marca, and its name is a nod to Edmond Dantès, the main character of Alexander Dumas' book The Count of Montecristo, from which the marca gets its name.
TRINIDAD TOPES (Limited Edition 2016)
Since 1980, the Trinidad Fundadores has been produced exclusively for Fidel Castro. The only boxes that left Cuba were gifts to foreign diplomats. On February of 1998, the brand was officially launched as an export in Trinidad, Cuba. The cigars were first made available in Canada and Mexico in April 1998, and later became available to the world market. This line features one size, the Fundadore, which means Founder. It is similar in size to the Cohiba Lancero, measuring at a ring guage of 40 and a length of 7 and 3/4 inches or 195 mm.
Named after one of Cuba's most beautiful cities, the Trinidad is produced only in the El Laguito factory, and packaged in an 'unusual' quantity of 24 cigars as well as in cabinets of 50.
COHIBA MEDIO SIGLO
The new Medio Siglo features a completely new vitola in the range of sizes of Habanos, its dimensions being a tribute to two other classic vitolas in Línea 1492. The Cohiba Medio Siglo has the 52 ring gauge (20.64 mm) of the Cohiba Siglo VI and the length (102 mm) of the Cohiba Siglo I, leading to a modern, small format Habano that is completely new for the brand, with a smoking time of around 30 minutes and the medium strength flavour that characterises Línea 1492.
It should also be highlighted that this represents the first launch within Línea 1492 since 2002, when the Cohiba Siglo VI was presented. With this launch, Cohiba strengthens its offer in smaller formats, and offers its smokers an interesting vitola in line with current trends.
All Cohiba brand Habanos are made Totalmente a Mano con Tripa Larga – Totally by Hand with Long Filler – with selected leaves from Vuelta Abajo*, the best tobacco-growing region in the world, in Pinar del Rio*, Cuba. The leaves used in Cohiba's production are the pick of the five best Vegas de Primera from the tobacco-growing districts of San Juan y Martinez and San Luis in Vuelta Abajo.
MONTECRISTO 80 ANNIVERSARIO
The Montecristo 80 Aniversario has special dimensions that cannot be found in any other standard Habanos vitola. It will particularly appeal to smokers who enjoy thick ring gauge Habanos and an exquisite blend that is balanced, and intense at the same time.
This commemorative edition is presented in an exclusive, uniquely designed box made from the finest Cuban wood and elegantly finished with carmelite lacquer, with all its bevelled edges showing. The box cover stands out due to the round Montecristo seal in vivid gold tones, inspired by the design of the brand's band.
The Habanos in this edition are also presented in an exclusive and novel fashion. The brand's band is entirely finished in gold for the occasion and is accompanied by a second band bearing the reason for the edition: 80 Aniversario.
PARTAGAS 170 ANNIVESARIO
If there is one particularly famous cigar factory in Havana, it is Partagas. You can find it at No. 520 Industria Street, just behind the Capitol building, in the heart of the city. The factory was opened in 1845 by Don Jaime Partagas and it has been making the cigars that bear his name ever since.
A Partagas is immediately recognisable by its deep, earthy flavour. The character of its blend springs from a selection of filler and binder tobaccos grown in the Vuelta Abajo zone and chosen for their unmistakable richness of flavour and aroma.
Partagas come in a wide array of shapes and sizes notably the Lusitania and the 8-9-8, a cigar that is named after the way it is arranged in its box.
ROMEO Y JULIETA CAPULETO
Named after William Shakespeare's tragic lovers, the origins of Romeo y Julieta as a Habano date back to 1875.
The brand rose to international fame during the early years of the 20th Century under the direction of Don 'Pepin' Rodríguez, a talented promoter, who was amongst the first to recognise the power of the cigar band. During his hey day no less than 20,000 different bands were used in production.
Winston Churchill became a devotee of the brand. Following his visit to Havana in 1946, his name has not only been commemorated on a band but it has also served to describe the marque's most famous size – Romeo y Julieta Churchills.
Romeo y Julieta's balanced and aromatic blend of selected filler and binder leaves from the Vuelta Abajo zone make it the classic medium bodied Habano.
PUNCH VINTAGE JAR
Punch is one of the very oldest Habano brands. Don Manuel López of Juan Valle & Co founded it in the mid 19th Century with an eye to the booming British market where a humorous magazine of the same name was much in vogue.
A contented Mr Punch, the clown who personified the magazine, is still featured in every box, cigar in hand, and surrounded by 19th Century images of cigar making that remain virtually unchanged over a century and a half later.
In 1931 the Punch became associated with Hoyo de Monterrey and the two brands have been made at the same factory ever since. Today the factory is La Corona.
Punch's distinct medium flavour created with a blend of filler and binder tobaccos from Vuelta Abajo is available in a wide variety of sizes all of which are Tripa larga, Totalmente a Mano – long filler, totally hand made.